Find Affordable Junk Removal Services Near Me in Universal City, Los Angeles County, California
Junk removal businesses in Universal City provide environmentally friendly solutions for disposing of unwanted items including household junk. They can get rid of your junk quickly and efficiently, no matter if the item is appliances, furniture or a mattress.
Universal City Junk Hauling, Pickup, & Recycling
Many junk haulers that are full-service offer same-day or next-day service and will help get rid of all types of junk. Junk removal experts in Universal City take care of all the heavy lifting so you don't need to lift a finger.
If you don't want it, they can get rid of it. All you have to do is to point and they will take it away.
Junk removal companies in Universal City will do all they can to reuse or give away as much junk as they can to local charitable organizations. They can remove all junk from any area and work with local recyclers and charities to extend the usefulness of your junk.
Professional Junk Removal Services in Universal City
Appliance Removal
Watch your old appliances disappear.
Refrigerator Removal
Stove Removal
Dishwasher Disposal
Washer & Dryer Removal
Book Junk Disposal
Hot Tub Disposal
Water Heater Removal
TV Disposal
Computers & PC Removal
Furniture Removal
Get rid of your old furniture.
Old Furniture Removal
Couch & Sofa Removal
Mattress Removal
Box Spring Removal
Bed Frame Removal
Table Disposal
Dresser Disposal
Piano Disposal
Desk Disposal
Bookshelf Removal
Comprehensive Junk Removal
Clean out unwanted trash.
Household Junk Items Removal
Bathtub Disposal
Carpet Disposal
Construction Debris Removal
Renovation Debris Removal
Drywall & Flooring Disposal
Junks Cars & Tire Disposal
Scrap Metal & Wood Disposal
Yard Waste Materials Disposal
Electronics & Electronic Waste Disposal
Basement & Garage Cleanouts
Bulky & Heavy Household Items
Best Junk Removal Services in Universal City, CA
West LA Hauling & Junk Removal
Junk Removal & Hauling
+13232182000
Los Angeles, CA 90019
Hauling LA Junk Removal Service
Junk Removal & Hauling
+13108726955
Los Angeles, CA 90019
Prestige Junk Removal
Junk Removal & Hauling
+17473040385
Los Angeles, CA 91409
Express Hauling & Junk Removal
Junk Removal & Hauling
+14243876733
Los Angeles, CA 90019
Wayne's Junk Removal
Junk Removal & Hauling
+13233098002
West Hollywood, CA 90046
24/7LA Express Hauling Junk & Removal L.A.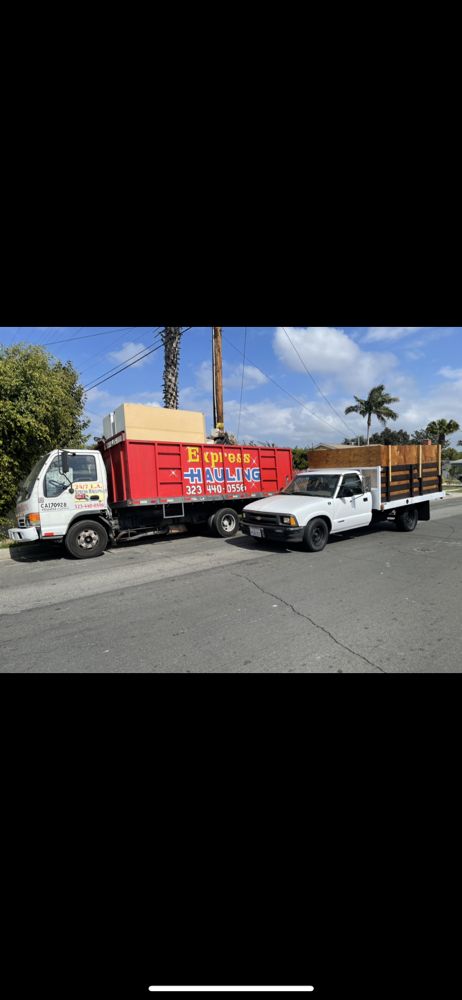 Junk Removal & Hauling
+18775865717
Mid-Wilshire, CA 90019
One Call Junk Haul San Fernando Valley
Junk Removal & Hauling
+18188730080
14900 Magnolia Blvd, Ste 56616, Los Angeles, CA 91413
Go Junk Free America
Junk Removal & Hauling, Demolition Services
+13236330610
7861 S Western Ave, Los Angeles, CA 90047
Honest Abe Junk Removal
Junk Removal & Hauling, Demolition Services, Hazardous Waste Disposal
+18187932531
Sherman Oaks, CA 91401
How To Choose a Junk Removal Company in Universal City
If you reside in Universal City, CA, there are many junk removal companies to choose from. With so many choices, it's difficult to choose which one to select.
Here are a few tips to remember when you are deciding on the right junk removal company in Universal City:
Find out what types of services the company offers

Most junk removal companies in Universal City provide similar services, for example, removal of large objects and properly disposing of them.

However, certain companies might offer additional services, like cleaning sheds and garages. Make sure to inquire about all the services the business offers prior to making a decision.

Get price quotes from several companies

Junk removal prices can vary significantly from one company to the next. Some firms may charge per hour, while some have a flat cost. You should get an estimate of the cost before hiring the services of any junk removal company.

Get quotes from multiple companies so you can compare costs. Make sure you inquire about hidden fees or surcharges so that you are aware of the final cost will be.

Check the company's hours of operation

The majority of junk removal companies in Universal City are available during normal business hours. Some companies might offer extended hours or 24-hour service. Be sure to ask regarding the business's hours of operation prior to making a final decision.

Ask about their cancellation policy

Certain junk removal companies in Universal City could charge you a fee when you fail to show up for your appointment. Some may not charge any fee however they might require 24-hour notice. Be sure to ask what cancellation policies the company has prior to making a final decision.

Find out if the company is reputable and has good customer service

The best way to get information about the quality of customer service provided by a company is to look up reviews online. You can also ask friends or relatives if they've used an junk removal company in Universal City and if they were pleased with the service.

Do your research and choose a company that is insured and licensed

It is essential to select a company that is insured in case of any accidents. You should also make sure the business has been licensed to operate in your area.

Review their scores with the Better Business Bureau, and check that the company you choose has experience removing the type of junk that you're trying to get rid of. Ask about their process and how they dispose of junk.
Local Junk Hauling & Pickup Near Universal City, CA 91608
Cheap Junk Removal Universal City
Are you looking for a low-cost junk removal in Universal City? Find the most skilled and trustworthy teams close to you. They're committed to providing customers with the best possible service at a reasonable price.
They know that getting rid of clutter can be a hassle This is the reason they have made it their top priority for them to ensure that the procedure is as easy and as stress-free as is possible. Call today to get started.
Universal City Junk Removal Experts Can Take Almost Anything
Appliances
Get rid of your old appliances.
Refrigerators
Dishwashers
Stoves
Washers
Dryers
Water Heater Tanks
Televisions
Computers, PCs
Hot Tubs
Furniture
Watch your old furniture disappear.
Old Furniture
Mattresses
Box Springs
Sofas & Couches
Tables
Desks
Bookshelves
Dressers & Drawers
Pianos
Other Unwanted Junk
Clean out unwanted clutter.
Bathtubs
Carpets
Concrete
Drywall
Flooring
Tires
Scrap Metal & Wood
Yard Waste
Electronics & E-Waste
Free Junk Removal Universal City, CA
If you're in search of an inexpensive junk removal service in Universal City, there are many options available. In addition to paid professional services, you can even benefit from programs that recycle.
A lot of national appliance and furniture stores even offer free pickup of old appliances.
There are however some items that are not recyclable. There are a few items that may be too dangerous to recycle by yourself. Once you know what you can and cannot recycle, you'll know when to make a call to a professional local junk removal service.
About Universal City, California
Universal City, an unincorporated area in the San Fernando Valley region, Los Angeles County, California, United States. Universal Pictures (NBCUniversal's film studio) owns approximately 415 acres (1.7km2) in and around the area. This is one of five major American film studios. About 70% of the studio's property lies within this unincorporated area while the remaining 30% is within Los Angeles city limits. Universal City is primarily surrounded by Los Angeles with its northeastern corner touching the city of Burbank, making the unincorporated area a county island.
Located within the area of Universal City is the Universal Studios Hollywood film studio and theme park, as well as the Universal CityWalk shopping and entertainment center. The Universal Plaza is a 36-floor office building that houses Universal and NBC, the Sheraton Universal, and the Universal Hilton. It is located within Los Angeles' city limits. The Metro B Line underground station with the same name is located directly opposite the 10 Universal Plaza.
Source
Los Angeles County is officially known as the County of Los Angeles. Sometimes, it is also abbreviated L.A. County is the most populous county of the United States and the U.S state of California. It has 9,861,224 estimated residents as of 2022. It is the largest non-state-level government entity in America. Its population is greater than that of 40 individual U.S. states. It covers 4,083 sq. miles (10,570 km 2) and has 88 incorporated and unincorporated cities. It is home to more that one-quarter of California's residents. It is also one of the most diverse counties in the United States. Los Angeles, the county seat, is California's largest city and home to approximately 3.9 million people.
Geo:34.138900,-118.353410
Remove Anything
Remove virtually anything (except hazardous waste). Just point and they do the rest.
Recycle & Donate
Universal City junk removal businesses partner with local charities and recyclers to extend the life of your junk.
Licensed & Insured
100% licensed and insured junk removal, trash haulingl companies. They have your back.
FAQ
How much does junk removal cost in Universal City, CA?
The majority of junk removal companies in Universal City charge between $65 and $350 for the service for the removal of your junk. The price is based on the quantity of items as well as how much space your items consume, not the time it takes them to get rid of your junk.
How do I dispose of junk in Universal City, California?
For a no-cost, free estimate or to make an appointment, contact your Universal City junk removal company. The Junk Removal team will arrive with a truck and take away all items. You just need to point.
Where can I dump trash and unwanted items in Universal City, CA?
There are a variety of options when it comes to getting rid of your unwanted rubbish in Universal City. Contact your city to find out if they provide free pick up for large objects. Sell or give away your items and the buyer will pick it up at your residence. Donate your items in good shape to a local charity. Haul and drop your items off at the local landfill.
What types of junk items can junk removers remove in Universal City?
Junk removal companies in Universal City can take almost anything as long as it's not environmentally toxic or hazardous. Common items picked up include household furniture, appliances, couches, mattresses, tables, chairs, and electronics.
How do I dispose of furniture in Universal City?
In most cities in the United States, you can make a call to 311 and request the collection of bulky items. The city will collect larger items such as kitchen appliances and furniture and mattresses, at no cost. For refrigerators and freezers pickup, the doors must be taken off prior to setting them out.
How do I dispose of junk for free near me in Universal City?
There are a few ways to dispose of furniture, appliances and mattresses including recycling programs and garbage pickup. Call local shelters and charities such as Goodwill Industries, the Salvation Army, as well as Habitat for Humanity.