Find Junk Removal Near Me in Warner Robins, GA.
Find Affordable Junk Removal Services Near Me in Warner Robins, Georgia
Junk removal services in Warner Robins provide eco-friendly methods to get rid of unwanted objects that include household waste. It doesn't matter if it's furniture, appliances or even a mattress, they'll take items off your hands with their fast and easy junk removal services.
Warner Robins Junk Hauling, Pickup, & Recycling
Many full-service junk haulers offer the same day or next-day service and are committed to helping to remove all kinds of junk. Junk removal experts in Warner Robins perform all of the heavy lifting, so you don't need to lift a finger.
If you don't want it, they'll haul it. All you need to do is to point and they will take it away.
Junk removal companies located in Warner Robins will do their best to reuse or give away as much junk as they can to local charities. They remove everything from anywhere and work with local charities and recyclers to extend the life of your trash.
Professional Junk Removal Services in Warner Robins
Appliance Removal
Watch your old appliances disappear.
Refrigerator Removal
Stove Removal
Dishwasher Disposal
Washer & Dryer Removal
Book Junk Disposal
Hot Tub Removal
Water Heater Disposal
TV Removal
Computers & PC Disposal
Furniture Removal
Old furniture hauling & recycling.
Couch Removal & Sofa Disposal
Mattress Removal
Box Spring Disposal
Bed Frame Removal
Table Removal
Dresser Disposal
Piano Removal
Desk Removal
Bookshelf Removal
Comprehensive Junk Removal
Clean out unwanted trash.
Household Junk Items Disposal
Bathtub Removal
Carpet Disposal
Construction Debris Removal
Renovation Debris Disposal
Drywall & Flooring Removal
Junks Cars & Tire Disposal
Scrap Metal & Wood Disposal
Yard Waste Materials Disposal
Electronics & Electronic Waste Disposal
Basement Cleanouts & Garage Cleanouts
Bulky & Heavy Household Items
Junk Car Removal
Best Junk Removal Services in Warner Robins, GA
Brannen Junk Removal
Junk Removal & Hauling
+16789860237
109 Latham Dr, Apt 75, Warner Robins, GA 31088
College Hunks Hauling Junk & Moving – Macon
Movers, Junk Removal & Hauling
+18132108412
107 Peach Wood Dr, Byron, GA 31008
Nomo Junk
Junk Removal & Hauling
+14782859915
Eastman, GA 31023
Dumpsters-A-Go-Go
Dumpster Rental
+14782936219
284 Southfield Ct, Bonaire, GA 31005
Making Moves of GA
Junk Removal & Hauling, Movers, Packing Services
+14787332995
1613 Sweetwater Dr, Warner Robins, GA 31088
Twanz_D.I.A Services
Landscaping, Junk Removal & Hauling, Tree Services
+14782739704
Warner Robin's, GA 31093
Southern Dumpsters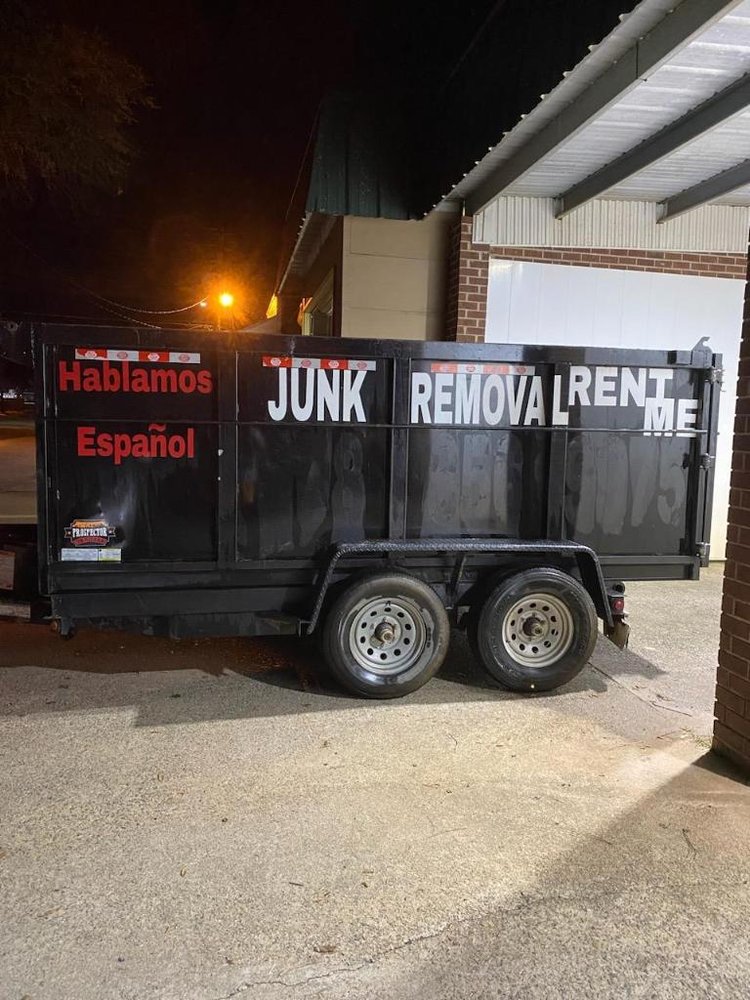 Dumpster Rental
+14787780135
Perry, GA 31069
Shawn's pest management
Pest Control, Landscaping, Junk Removal & Hauling
+16789729890
Forsyth, GA 31029
Mid State Movers
Movers, Junk Removal & Hauling
+14782276004
Macon, GA 31216
How To Choose a Junk Removal Company in Warner Robins
If you are within Warner Robins, GA, there are plenty of junk removal companies to choose from. But, with all the options, it's difficult to decide which one to select.
Here are a few points to consider when deciding on a junk removal company in Warner Robins:
Find out what types of services the company offers

The majority of junk removal companies in Warner Robins offer similar services, such as taking away bulky items and disposing them in a proper manner.

Certain companies provide other services, for instance, cleaning out garages or sheds. Make sure to inquire about the various services that the company offers before making a final decision.

Get price quotes from several companies

The cost of junk removal can vary dramatically from company. Certain companies might cost per hour, while some have a flat cost. You should get a price estimate before using every junk removal company.

Get quotes from multiple companies so you can compare prices. Be sure to ask about any hidden charges or additional fees to know the final price will be.

Check the company's hours of operation

Most junk removal companies in Warner Robins are available during normal working hours. However, some companies may provide extended hours or 24-hour service. Make sure you inquire regarding the business's hours of operation before making a decision.

Ask about their cancellation policy

Some junk removal companies in Warner Robins could charge you a fee when you cancel your appointment. Some may not charge any fee but they may need 24-hour notice. Make sure you inquire about the company's cancellation policy prior to making a final decision.

Find out if the company is reputable and has good customer service

The best way to learn about a company's customer service is to read reviews online. You can also ask friends or family members if they have utilized an junk removal company in Warner Robins and whether they were happy with the services.

Do your research and choose a company that is licensed and insured

It's important to choose one that is insured in case of any accidents. Make sure the company has been licensed to operate in your region.

You can check their reviews at the Better Business Bureau, and make sure the company you choose has experience removing the kind of garbage you want to dispose of. Ask about their process and methods of disposing of the trash.
Browse Junk Removal Services in Warner Robins, GA
Cheap Junk Removal Warner Robins
Looking for affordable junk removal in Warner Robins? Do not look any further than professional and trustworthy teams around you. They're dedicated to providing you with the best service possible at the most affordable price.
They realize that getting rid of clutter can be difficult This is what makes it their primary priority for them to ensure that the procedure is as simple and stress-free as possible. Call now to start.
Warner Robins Junk Removal Experts Can Take Almost Anything
Appliances
Get rid of your old appliances.
Refrigerators
Dishwashers
Stoves
Washers
Dryers
Water Heater Tanks
Televisions
Computers, PCs
Hot Tubs
Furniture
Watch your old furniture disappear.
Old Furniture
Mattresses
Box Springs
Sofas & Couches
Tables
Desks
Bookshelves
Dressers & Drawers
Pianos
Other Unwanted Junk
Clean out unwanted garbage.
Bathtubs
Carpets
Concrete
Drywall
Flooring
Tires
Scrap Metal & Wood
Yard Waste
Electronics & E-Waste
Free Junk Removal Warner Robins, GA
If you're searching for an affordable junk removal service in Warner Robins, there are plenty of options available. Alongside professional services that are paid for, you can even find programs that recycle items.
Many national appliance and furniture stores even offer free pickup of old appliances.
However, there are some things that aren't recyclable. There are a few things that are too risky to recycle on your own. When you've figured out what you can and cannot recycle, you'll be able to make a call to an expert local junk removal service.
Junk Removal & Pickup Service Areas Near Warner Robins, GA 31088
About Warner Robins, Houston County, Georgia 31088
Warner Robins (typically wore-nur-RAH-bins) is a city in Houston and Peach counties in the U.S. state of Georgia. It is currently the state's eleventh-largest incorporated city, with a population of 80,308 in the 2020 Census.
Map of Warner Robins, Georgia 31088
Geo:32.615740,-83.626640
Remove Anything
Remove virtually anything (except hazardous waste). Just point and they do the rest.
Recycle & Donate
Warner Robins junk removal businesses partner with local charities and recyclers to extend the life of your junk.
Insured & Licensed
100% licensed and insured junk removal, trash haulingl companies. They have you covered.
Frequently Asked Questions (FAQ)
How much does junk removal cost in Warner Robins, GA?
Most junk removal firms in Warner Robins charge $65 to $340 to remove your junk. The price depends on the quantity of items you have and how much space they take up. It's not based on the time it takes to get rid of your trash.
How do I dispose of junk in Warner Robins, Georgia?
For a no-cost, free estimate or to make an appointment, call your Warner Robins junk removal company. A team will arrive in a truck and remove any unwanted items. Just make sure to point.
Where can I dump trash and unwanted items in Warner Robins, GA?
There are numerous possibilities to choose from when it's time to eliminate junk in Warner Robins. Check with your city and see if they offer free pick-up for big objects. Offer your things to charity for free, and let the buyer pick it up from your home. Donate the items that are in good condition to local charities. Drop off your unwanted items at the local dump.
What types of junk items can junk removers remove in Warner Robins?
Junk removal companies in Warner Robins can take almost anything as long as it's not environmentally toxic or hazardous. Common items picked up include household furniture, appliances, mattresses, couches, tables, chairs, and electronics.
How do I get rid of furniture in Warner Robins?
In most cities in the United States, you can make a call to 311 and request a pickup of large items. The city will collect oversized items including furniture, appliances and mattresses, for free. In order to pick up freezers and refrigerators, the doors must be removed before placing them out.
How do I dispose of junk for free near me in Warner Robins?
There are a few ways to dispose of furniture, appliances, and mattress that range from recycling programs to trash pickup. Consider local shelters and charities like Goodwill Industries, the Salvation Army and Habitat for Humanity.